I am happy to host this month's Petite Fashion Challenge. I had to get my pics together last minute so I appreciate all of the participants who joined this challenge during such a busy month!
Cute cold weather shopping clothes!
To read my original PFC announcement that tells how I chose the challenge,
click here
.
This month's challenge
"The weather outside is frightful, but indoor shopping is warm and delightful. So, whether you have wind, rain, or snow, show me your clothes when shopping for friends or foes!
...And yes, extra cool points will be granted for pictures taken while shopping!"
Here's a quick glimpse of my outfit
First, here's an entry from Nicole, from twitter @nicology, who does not (yet) have a blog:
I've been reading others' PFC posts for several months and was drawn to participating in this challenge because I recently had this predicament when choosing an outfit to wear while holiday shopping.
Here was my solution.
Theory blazer. Urban Outfitters lace top. Kirkland Signature cami. Kate Spade skinny jeans.
Nordstrom headband. Prada glasses. Pearls gifted from grandmother. Kate Spade iPhone case. Chanel classic flap m/l. Valentino flats.
A puffy jacket is a burden to carry when shopping. Instead, I wore a blazer I could easily put on/take off (perfect when trying on items) and roll up the sleeves if I got warm. The fabric is lightweight enough to stow it away in a shopping bag if I needed to.
To compliment the non-waterproof blazer and combat Seattle's cold, rainy weather, an umbrella and gloves are essential. The ones I used are tucked away in one of my shopping bags. (Nordstrom does a great job of providing umbrella bags to customers so one can tuck their bagged umbrella away without worrying about getting their other items wet.)
At the time, Seattle was having a windy winter storm. I accessorized my outfit with a bejeweled headband that looks chic while easily keeping my windblown hair in place.
A cross body bag and a comfortable pair of flats are two of my shopping must-haves. The handsfree aspect makes it easier to scour the racks and carry my purchases. And the flats keep my feet warm, make it easy to try on shoes and quickly navigate through the crowds of shoppers.
Now, here are my pictures; however, I hope to learn more from my fellow participants.
I went with a cape not because I am a super shopper, although of course I am that, but because it allows me the versatility of venting by unzipping or shutting the cold out by zipping up the arm flaps.
I collect silk scarves and gloves so I love accessorizing with them in the winter.
In case I'm still too hot with the cape I become a winged fashion crusader by letting the cape drop off of my shoulders.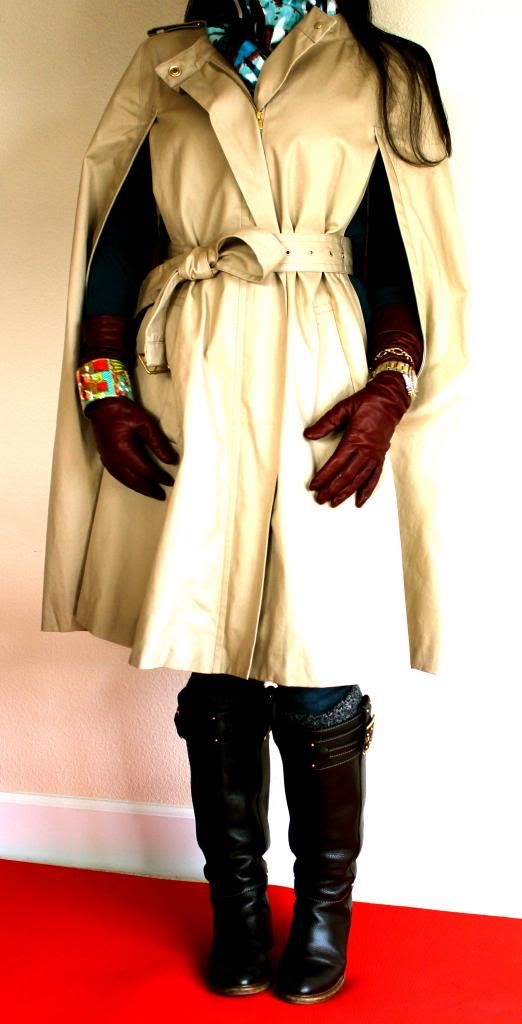 Outfit details:
Chloe boots
DVF cape jacket (on sale now:
here
)
Rock by Rock Revival jeans
Leggings from Bouchara Collection (Strasbourg, France)
J Crew long leather gloves
J Crew lightweight turtkeneck
Hermes bracelet and belt
Rolex watch
Ann Taylor scarf


Here's a list of the lovely ladies who participated
If I missed your name or if you were a last minute add, tweet me or leave a comment below!
My previous PFC challenges
♥
Thanks for reading and supporting my blog!
♥
I will be on a blog posting hiatus through March. See you then!